Cabin Foamie 4-Channel Electric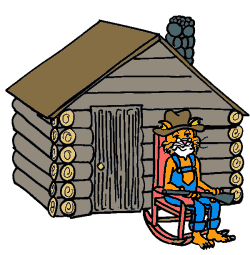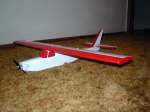 The geneology of the Cabin Foamie goes back to a one off balsa plane that Pat Mattes built, which he called "the Cessna". "The Cessna" was inspired by a Kyosho foam Cessna that Pat had salvaged from the local hobby shop's basement. I actually ended up with "the Cessna" and even generated some CAD work which culminated in about 5 sets of laser cut ribs. The intention was to eventually take this "sort-of-Cessna" forward as a Garrison Aerodrome kit, and we may still do it. However, the project got sidelined by the wonderful world of EPP and the charge to production for the Push-E Cat.
Time went by.
Last year, Pat made friends with a fellow at work who had built models since he was a kid, but had never actually had much luck flying them. Under Pat's wing, Sanjeev eventually started flying some models and even had a Blue Foamie going at one time. During this association, Pat scabbed together a high wing, three channel Blue Foamie for Sanjeev to try. It was way ugly, but it flew quite well. Eventually Sanjeev managed to bash the fuselage into styrene powder, and he came to me to try and fab up an EPP version of the plane.
With Pat's permission, I scammed some dimensions off the original "Cabin Foamie" and did some initial work. The similarity in shape between "the Cessna" and the Cabin Foamie is striking, but it is not direct. I did not end up measuring anything between the two aircraft, although I took clues between the two. In fact, the pictures on this page are actually of the second EPP Cabin Foamie prototype. The first had constant chord wings, and I got the corrugated plastic tail glued in the wrong place.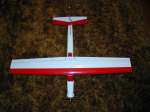 Anyway, the first Cabin Foamie flew OK, and actually had a VERY effective rudder. Unfortunately, I put too much dihedral in the wing, and the thing had a wicked Dutch Roll. The ailerons on that first CF actually did very little except get you into serious trouble. The pictures on this page are of the P2 Cabin Foamie. It features a tapered wing with tip plates, much better wing reinforcement, and a much stiffer fuselage. This plane is actually going to Sanjeev in Chicago as soon as I test fly it. One additional thing I've learned from the two prototypes is that the cabin needs to move about 1.25" back toward the tail so it will balance properly. Oh, well, on to P3, which I should have at the NEAT fair.
Other than modifying the tooling for the relocated cabin, the ground work for releasing the Cabin Foamie is complete. Once I am sure it is flying correctly and that the CG issue is resolved, we will be able to write the instructions and release the kit.