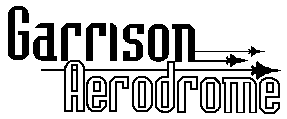 About Garrison Aerodrome
---
Garrison Aerodrome R/C Model Enterprises was founded in February, 1998 by Darwin A. Garrison as a sole proprietorship business under Indiana state law. At the time of its inception, Garrison Aerodrome was intended to be primarily a web service provider to the modeling industry and an umbrella organization for the development and marketing of original design radio control aircraft.

Near the end of 1998, it became obvious that Garrison Aerodrome was better suited to focus on the development and marketing of quality niche market radio control products rather than attempting split its focus across markets. To pursue this vision, the web related portions of Garrison Aerodrome's business were ceded to the contractor who had been maintaining the sites: Whirlwind Systematics

Our mission is to produce innovative and exciting products for the R/C market that will produce a reasonable return on our investment while making allowance for a full and happy family life.
---
Problems with the function of this web site? Please contact:

Copyright © 1999, Garrison Aerodrome R/C Model Enterprises, All Rights Reserved